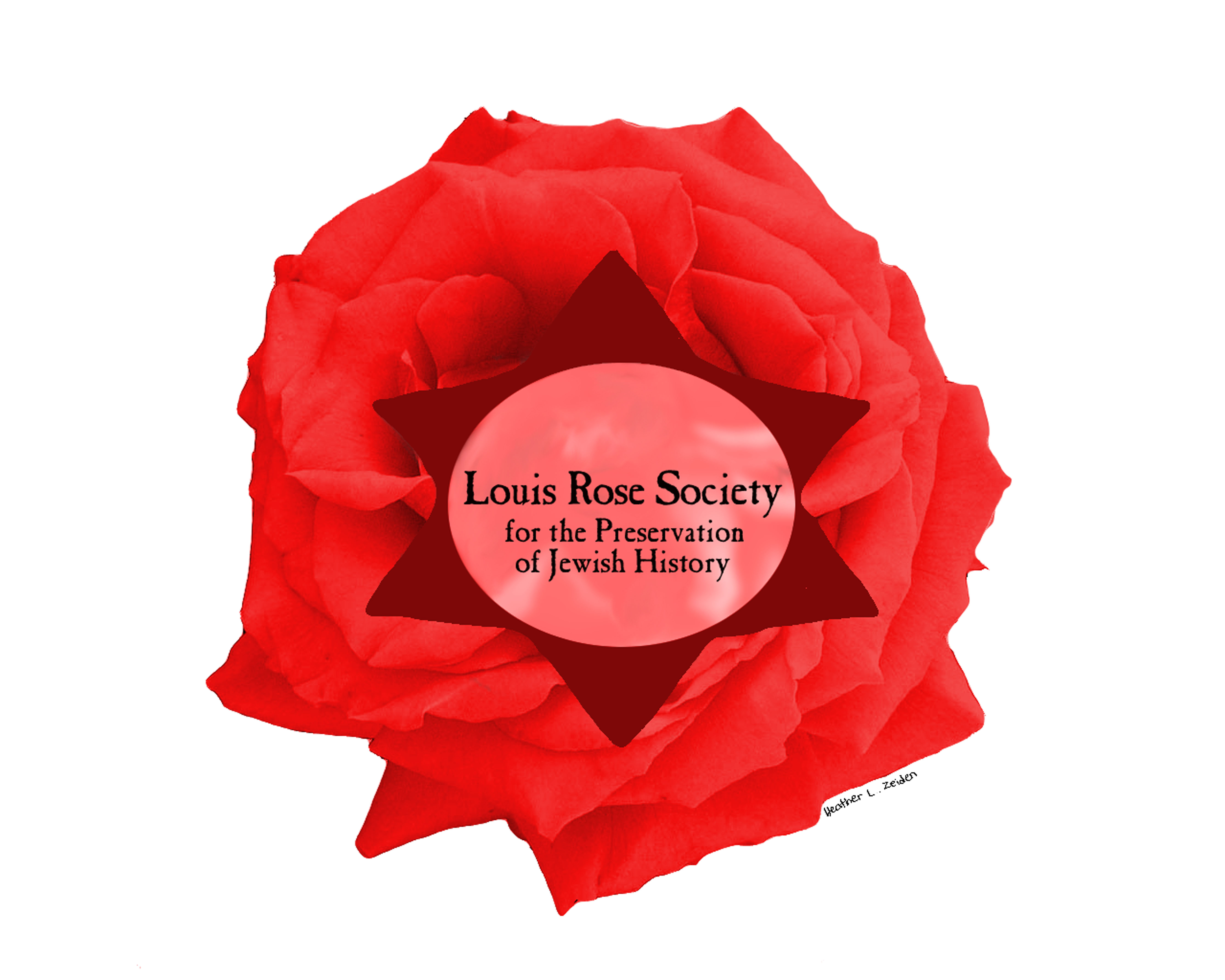 December 12, 2005
Newsletter No. 13: Louis Rose Society for the Preservation of Jewish History
American Jewish Committee honors
its presidents on our Louis Rose website

The San Diego chapter of the American Jewish Committee has become the first Jewish organization in San Diego to take advantage of the Louis Rose Society's "organizational biography" program. Its ten past presidents as well as its current president, Tad Seth Parzen, all have been honored on the website. By researching articles about the activities of these 11 leaders over their lifetimes, the Louis Rose Society also will be compiling material that can easily be consolidated into a history of the American Jewish Committee's work in San Diego County.

The past presidents, in order of their service beginning in 1981, were Dorothy Garfield, Nadine Savitch, Norman Hahn, Deborah Horwitz, Jerry Harris, Hamilton Loeb, Penny Adler, Paul Meyer, Marty Block and Joan Dean. Except for Garfield and Hahn, all are still living. Inasmuch as Block previously had been honored on the website by LRS members Robert & Helaine Baum, there was no charge to the American Jewish Committee for including the link to Block's web pages on the AJC organizational page.

Under the program, organizations pay the same $36 fee as that paid by individuals to join the Louis Rose Society. The $36 fee includes the right to honor one individual from our San Diego Jewish community. Each additional individual may be honored at $18 (chai). Once an individual is honored on the site, the Louis Rose Society begins the process of placing information about that person upon the website culled from the archives of the Southwestern Jewish Press, San Diego Jewish Press-Heritage and the San Diego Jewish Times. Members and friends may also submit material, including photographs, for on-line posting about the honorees.
Although the AJC was the first San Diego organization to take advantage of this opportunity to have aspects of its history researched at a remarkably low rate, our Society has been in discussion with other Jewish organizations about similar programs. We hope to make announcements soon about others who are joining the effort to make our San Diego Jewish history more accessible. If you are a member of a synagogue, club, agency, or Jewish interest group that you would like to see become a participant, please call Don Harrison at (619) 265-0808 to get this very inexpensive process started.

As of today (December 12), our membership stands at 183 individuals and organization. Thus far 210 people have been honored on our website.
Harrison to lead tour of Jewish Old Town on Sunday, Jan. 22
Louis Rose Society cofounder Donald H. Harrison will lead a walking tour highlighting the Jewish history of Old Town San Diego on Sunday, January 22, beginning at the Robinson-Rose House on the Plaza in Old Town State Park. Harrison has conducted this tour from time to time for a variety of organizations, but this is the first time it is being offered to members of the Louis Rose Society. The tour will start in the State Park and be completed at the old Temple Beth Israel in Heritage Park. A minimum donation of $5 to the Jewish Community Foundation/ Louis Rose Fund is requested. Please reserve a place on the tour by calling Don at (619) 265-0808 or messaging him at sdheritage@cox.net. By popular request, another tour of Rose Canyon to be led by LRS member and naturalist Rick Kamen is planned, perhaps in February or early March. Details in an upcoming newsletter.
Membership News: A double simcha for Gert Thaler in Israel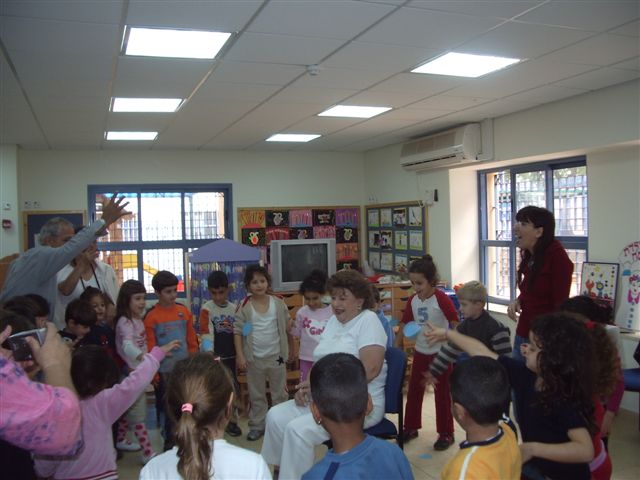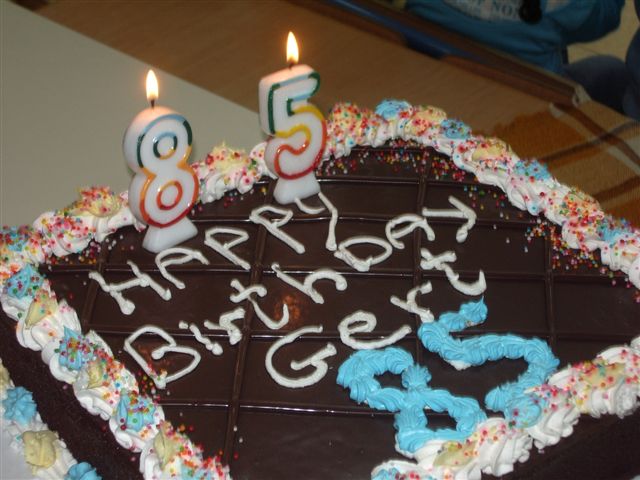 RING AROUND THE GERT—LRS member and honoree Gert Thaler was the guest of honor in the Tel Aviv public school kindergarten
classroom that she, along with daughter Linda Neiman and son-in-law Harvey Neiman and fellow San Diegan Jaime Brenner donated through the
Tel Aviv Foundation. The December 12th ceremony not only honored Gert for her 85th birthday but celebrated her recent release from the hospital
after a pulmonary ailment sidelined her in Israel for nearly two months. Gert is scheduled to fly back to San Diego this week, where doctors have
ordered her to follow a regimen of "rest" and "relaxation"—words not normally associated with the energetic, peripatetic Ms. Thaler.

Please share your news with other members of the Louis Rose Society family! Message the facts to Donald H. Harrison at sdheritage@cox.net Names in
boldface are LRS members; underlined names are those of LRS honorees. You may follow a link to that honoree's web page.

Lawrence Baron wrote a fine book, Projecting the Holocaust into the Present, about movie portrayals of the Shoah. For the Tifereth Israel/ Temple Emanu-El film series, Baron led a discussion on Sunday, December 11, on Mendel—a 1997 film about a family of Holocaust survivors. Baron, head of SDSU's Lipinsky Institute for Judaic Studies, is interested in Jewish movies of all sorts, leading a discussion series at Temple Solel on such flicks as The Frisco Kid and Where's Poppa. ... Robert Baum reports that he is recovering nicely from knee replacement surgery...We are saddened to report that Esther Brenes, mother of Philip and Roger Brenes and widow of LRS honoree Sam Brenes, has died. Her funeral will be at 3 p.m. on Tuesday, December 13, at Greenwood's Garden Chapel. Shiva will be observed at 7: p.m. on Tuesday, Wednesday, Thursday, and Sunday, and at 6 p.m. on Saturday, at the home of Roger Brenes. Call 619-222-5215 for directions...

Lew & Margaret Fischbein recently celebrated the birth of their first great-grandchild, Justin Moskovics, son of Stuart Moskovics and Ellen Erenea. Grandparents are Linda Moskovics and Samuel Moskovics, and Dom & Doris Erenea. In another simcha, Lew participated along with fellow LRS members Rabbi Leonard Rosenthal, Leslie Bercovits, Ralph Barnes and Joel Kriger, as well as with LRS Honoree Gloria Rimland, December 9 in the 100th anniversary rededication service of Tifereth Israel Synagogue. Lew is that Conservative congregation's most senior living past president. Leslie is the congregation's current president, Ralph and Gloria are past presidents, Joel is the current Men's Club president, and Len is the congregation's spiritual leader. Audrey Jacobson of Oxnard led several generations descended from her grandfather, Elias Jacobson, the man in whose home the congregation was founded in 1905. A comprehensive history of the congregation, edited by LRS member and honoree Laurie Gore, will be published early next year. There is still time to reserve at $36 per copy what undoubtedly will be a collector's item. Call the synagogue at (619) 697-6001.... David F. Harrison, son of co-founder Donald & Nancy Harrison, recently was promoted to the position of vice president for finance of Jacques Gourmet, maker of Miss Meringue Cookies....Harry & Sherry Jacobson-Beyer, members in Louisville, Ky., are justifiably proud of their new grandson, Ethan Jacobson, who lives with parents Keith and Jenny Jacobson in Fairhope, Alabama....Marjory Kaplan and J.J. Surbeck recently were married by Rabbi Paul Citrin of Congregation Beth Israel.... Marci Lizerbram, daughter of Sol & Lauren Lizerbram, recently was married to Corey Laulom... Margalit Wollner, daughter of Marcia & David Wollner, recently had her bat mitzvah at Congregation Beth Am…

A perfect Chanukah gift!
Remember, you can make a member of the San Diego Jewish community an honoree of the Louis Rose Society by sending a check in his/ her honor to the Jewish Community Foundation, 4950 Murphy Canyon Road, San Diego, CA 92123. Or if you want to do it even more quickly, simply call the
Foundation offices at (858) 279-2740. Make sure to tell them the donation goes to the Foundation's Louis Rose Fund, and in whose honor the donation is being made. For new members, the donation required for the honor is $36. It costs only $18 for each additional honoree. Act now, please!