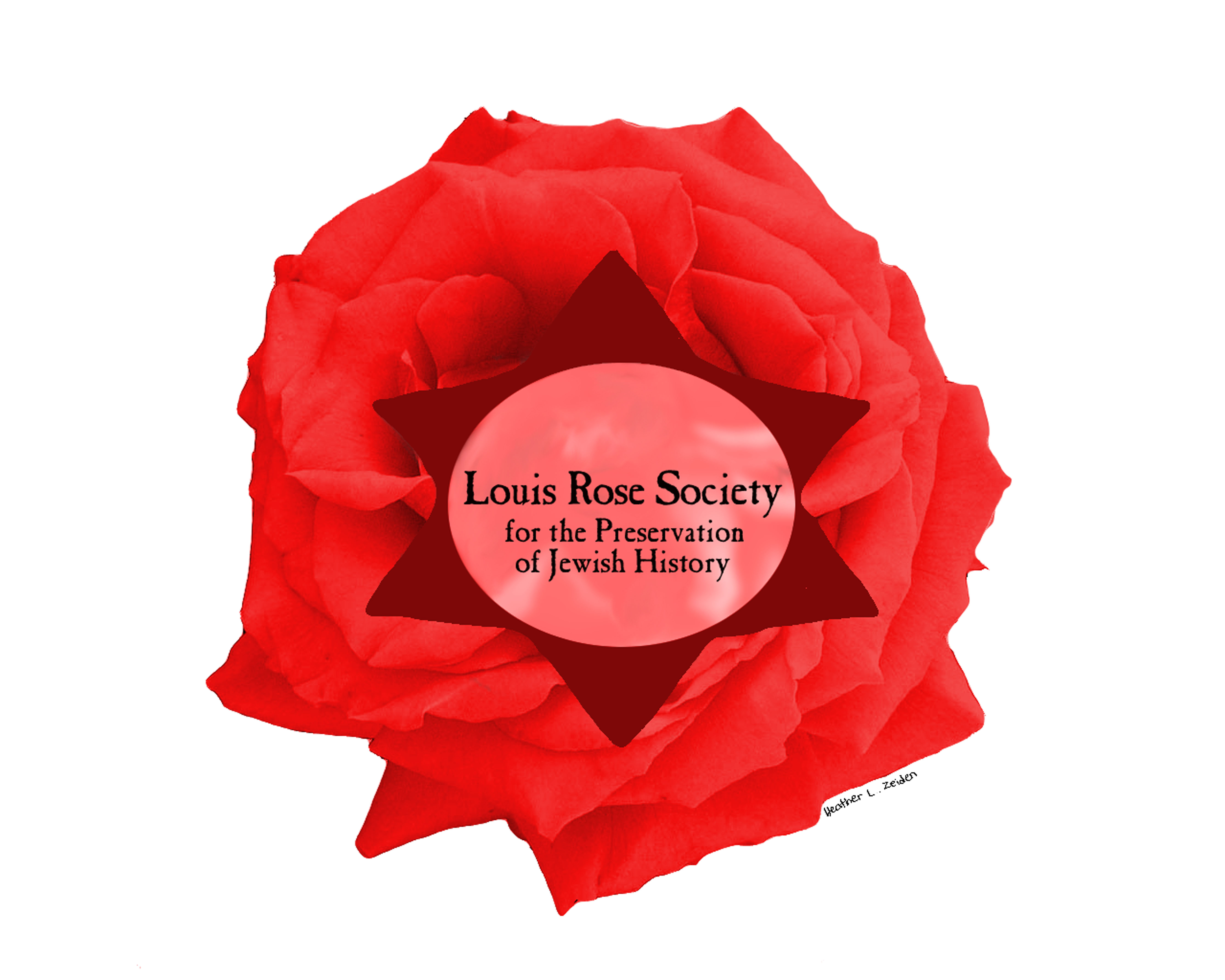 October 17, 2005
Newsletter No. 9: Louis Rose Society for the Preservation of Jewish History
Mark Your Calendars: November 16 Unveiling of Henrietta Rose's Gravestone; December 4 Botanical Hike in Rose Canyon

By Donald H. Harrison

Our populist campaign to make San Diego Jewish history accessible continues with two more important public events in 2005:
* The unveiling of Henrietta Rose's gravestone on Wednesday, Nov. 16, at 10 a.m. at Mt. Hope Cemetery.
* A botanical tour through a portion of Rose Canyon, starting at 2 p.m., Sunday, Dec. 4.
Here are the details:
Unveiling of Henrietta Rose's Gravestone—Ever since her death in 1957 at the age of 84, Henrietta Rose has been buried in an unmarked grave at Mt. Hope Cemetery. When she died, she was a spinster who had outlived by many decades every other member of pioneer Jewish settler Louis Rose's family. With no one else to claim Henrietta's body, a kind-hearted friend, Ethel Lyman, decided to bury her in an unmarked Lyman family plot.

On Wednesday, Nov. 16, at long last, a tombstone with a suitable marker will be dedicated atop Henrietta's grave. Representatives of four organizations will speak briefly at the unveiling ceremony: These include representatives of the San Diego School Board and the San Diego Education Association in recognition of Henrietta's 45-year tenure as a San Diego school teacher at Roseville Elementary School, Middletown Elementary School, Sherman Heights Elementary School, and Roosevelt Junior High School. La Paloma Chapter #96 of the Order of the Eastern Star, a Masonic organization that Henrietta led as worthy matron in 1901, also will send a representative. Our own Louis Rose Society for the Preservation of Jewish History will direct the ceremonies.
Our special thanks go out to KRC Rock, which donated the natural rock to which the plaque will be affixed; to Karman Ltd, a Los Angeles sign company that donated the graphic art for the plaque; and to the staff of Mt. Hope Cemetery led by M. David Lugo.

We hope you will attend this 10 a.m. ceremony at Mt. Hope Cemetery which may be reached by taking Interstate 805 to Market Street, then turning west. The entrance to the cemetery, on the left, is a short distance away. Cemetery workers will direct attendees to the site of Henrietta's gravestone, which is in a section of the cemetery lying beyond the railroad tracks.

Botanical walk through Rose Canyon—Writer and naturalist Rick Kamen will lead a tour in Rose Canyon on what he describes as "one of the easiest nature walks in the county" beginning at 2 p.m., Sunday, Dec. 4th, from the parking lot at University City High School, 6949 Genesee Avenue.

On this hike, Kamen will point out some wild roses now growing in the canyon named after Louis Rose, and also discuss how other plants growing in the area have made adaptations to their environment. I (Don Harrison) will tell a little bit about the tannery that Rose built in the canyon in the 1850s.

The tour is limited to the first 20 people who agree to make a minimum $5 donation to the Jewish Community Foundation/ Louis Rose Fund, and who sign the following insurance waiver and send it back to the Louis Rose Society, c/o Donald H. Harrison, PO Box 19363, San Diego, CA 92159:
(please cut out the form below)
**********************************************************************************************************

I, _______________________________, do hereby agree to donate a minimum $5 to the Jewish Community Foundation/ Louis Rose Fund and to assume full responsibility for any accident or injury that I may suffer during the Sunday, December 4, Rose Canyon nature walk sponsored by the Louis Rose Society. Furthermore, by this instrument, I agree to hold harmless the Louis Rose Society, its officers, tour leaders and representatives for any mishap that may befall me. In the event that I am a minor, my signature is countersigned below by that of my parent or guardian.

____________________________________________________________________________________________
(printed name) (age) (address) (phone number)
__________________________________ __________________________
(signature) (date)

____________________________________________ ______________________________________________
(If a minor, signature of parent or guardian here) (printed name of parent or guardian)
***********************************************************************************************************

Members and Honorees—To date, 154 households and businesses have become members of the Louis Rose Society and they have honored 167 members of the San Diego Jewish community, both living and dead. Each household or business that joins the Louis Rose Society is entitled to honor a Jewish San Diegan, living or dead, with its initial $36 membership. Those members who so desire may designate additional honorees by contributing an additional $18 per honoree to the Jewish Community Foundation/ Louis Rose Fund at 4950 Murphy Canyon Road, San Diego, CA 92123. Once a person is honored, we create a page for that person on the web, then put up photographs, archival material, links, and tributes onto that person's page. To get a quick image of what this project will become, please visit the site for the late Ida Nasatir at http://www.jewishsightseeing.com/louis_rose_historical/honorees/2005-08-07-nasatir_ida.htm. Be sure to follow the link to the articles written about Ida as well as the link to the articles written by Ida. In her day, Ida Nasatir was one of the leading intellectual lights of San Diego's Jewish community.
Indexing project continues; volunteeers sought—Having indexed Volume I of the Southwestern Jewish Press to show what archived stories are available for posting in the online biographical encyclopedia of San Diego's Jewish community, we have now moved on to Volume II, which includes issues of the Southwestern Jewish Press from September 8, 1950 to June 13, 1952. We will post this index as soon as is practicable. We would like to speed the indexing project, and would welcome any volunteers who enjoy reading and typing to come and help us. If you are interested in participating in this project making San Diego's Jewish history accessible on the web, please contact me (Don Harrison) at sdheritage@cox.net, or by telephone (619) 265 -0808.

Norman Greene, LRS co-founder, recovering from bicycle accident—Norman Greene, who co-founded the Louis Rose Society with Donald H. Harrison, is recovering at his Alvarado Estates home from the bicycle accident in which he shattered his elbow in 16 places and fractured his pelvis in 5 places. Greene was bicycling on Saturday, Sept. 24th, on a downhill grade along West Mission Bay Blvd, on the bridge near the Islandia Hotel, when a tire blew out, pitching him over the handlebars and onto the sidewalk. He was taken by ambulance to Sharp Memorial Hospital where over a period of several days he underwent two surgeries on his elbow. The accident kept Greene from attending our Society's picnic the following day at Louis Rose Point—an event which he was to have emceed. Greene says he is sufficiently on the mend to be looking forward to attending the November 16 event honoring Henrietta Rose. Time will tell whether he will feel well enough to serve as master of ceremonies.
###