By Donald H. Harrison

Philip Paulson, who since filing his famous suit against the Mount Soledad Cross, has often felt he was the "most hated man in San Diego," is not Jewish. He's an Atheist. In a recent exchange of letters with jewishsightseeing.com, he shared some comments about the Jewish community which I thought our readers would find most interesting. He wrote:

"As an Atheist, I have always felt comfortable with Judaism, because Judaism and the various Jewish sects are non-proselytizing religions, which requires one to have a Jewish mother. No
Jewish person, except Messianic Jews for Jesus, have ever attempted to convert me to become a Jew of Choice.

"Moreover, I have always been interested in and strongly support the nation of Israel. Based on my view of history, the secular Jews have led the people of Israel from the War of Liberation to Statehood..."

Paulson's comments are very flattering, especially from a man whose own life expectancy is quite short given a recent diagnosis of terminal liver cancer. Even in the best of health, Paulson wasn't one to mince words, and now that he's facing his demise, hecertainly has no reason to.

There are just two points that I'd like to add to what Paulson says here. First, there seems to be general agreement in the Jewish community that if a person converts to a different religion—such as when a Jew becomes a "Jew for Jesus" or a "Messianic Jew"—that person is no longer a Jew, but a Christian (albeit in a different-than-usual wrapping). Similarly, when a Christian converts to Judaism, he or she is a Jew. By formal processes, religions can be and are changed.

On the next point, concerning Judaism and Atheism, there seems to be a consensus—if not so broad an agreement as there is concerning people who convert to other religions—that one can be both Jewish and an Atheist—that a disbelief in God is not necessarily a disqualification to membership among the Jewish people.
One of the most fascinating and agreeable groups that I have covered in San Diego County is the Humanistic Jewish Congregation which believes that humanity has been and continues to responsible for its own destiny.

The symbol of the Humanistic Jews is a Humanorah (Human + Menorah) with the center candle holder representing the head of a person, the candleholders on either side representing humanity's upraised arms. Thus, with its arms and head, humanity holds up the platform of civilization.

For Jewish Humanists and, I suspect, for many of us who belong to synagogues, a central aspect of Judaism is our sense that whether we be religious or non-religious; Americans, Israelis, or citizens of other nations; and regardless of the hue of our skin, that all of us have a common bond linking our fates.

The concept, taught by the founder of Reconstructionist Judaism, the late Rabbi Mordechai Kaplan, is called "Peoplehood." We Jews are a People. Maybe we should say a Family, one that quarrels at times, one from which some members occasionally run and hide, but one in which we feel that intimate emotion of belonging.

So, if Philip Paulson feels comfortable with us Jews, probably it is because we Jews also feel comfortable with him. The philosophy to which he has dedicated his life may not be the dominant stream in Judaism, but it is one of its streams.

* * *

B SDSU Prof. Lawrence Baron, author of Projecting the Holocaust Into the Present, is becoming recognized as one of the world's leading authorities on movies dealing with the Holocaust. On May 22, he gave a keynote address at the Yad Vashem Holocaust Memorial and Museum in Israel on the subject, and two days later spoke at Ben-Gurion University about how movies depict such rescuers as Raoul Wallenberg and Oskar Schindler. He also has written the entry for the Encyclopedia Judaica on Holocaust cinema, and more recently has been invited to write an essay on the subject for American Historical Review (the journal of the American Historical Association) and another essay on film for the Oxford Handbook of Holocaust Studies.

Lee Ben-Yehuda write to tell us that she and her husband, Amnon, are among the Founding Supporters of musician Jacqui Silver's latest creative venture: "Silver Pathways to Music, Inc., a non-profit organization to bring musical education to San Diego—to its seniors, its at-risk children and to the public at large. Jacqui and Silver Pathways will present "Music from the Golden Age" at the Jewish Family Service's College Avenue Senior Center (4855 College Avenue) on Thursday., Sept. 14th at 1 P.M. to about 3 P.M." My question: A silver pathway, a golden age—is this supposed to be a great Musical Alloyance?

H Not having yet tasted it, I can't speak for their beer, but I love their puns. Celebrating its 10th anniversary as a beer maker is the Shmaltz Brewing Company, distributors of HE'BREW. Writes the company's publicist, Ali Waks: "Conceived and based in San Francisco, and brewed and bottled in New York, HE'BREW Beer has sold over two million beers and has become an interdenominational phenomena since its humble beginnings of 100 cases personally delivered out of Jeremy Cowan's Grandmother's Volvo." In San Diego, it won't "ale" you to "hop" over to any of these outlets to taste the Jewish-themed beer: Beverages & More #36, 925 Camino De La Reina Ave.; City Deli & Bakery, 535 University Ave.; Jimbo's Naturally; 12853 El Camino Real; Pacific Liquor House, 2931 El Cajon Blvd; and Sheila's Cafe, 4577 Clairemont Dr.

J Glenda Sacks Jaffe, who has been involved in numerous community projects under auspices of the United Jewish Federation, has taken on a new role: She has become the staff person for Chai South Africa, a unique organization that recognizes, among other missions, that elderly Jewish South Africans who have remained in that country still require assistance—even though the younger generations of their families may have moved away to seek opportunities in places like La Jolla and Tel Aviv.

K Do you want to get a head start on the Dead Sea Scrolls exhibit, which will guarantee crowds at the San Diego Natural History Museum next July through December? The curator of the exhibit, Risa Levitt Kohn, who also is director of the Judaic Studies program at San Diego State University, has worked out a series of programs with the Agency for Jewish Education. At AJE's Jan. 21 Limmud (Community Day of Learning), there will be an initial lecture, "Introduction to the Discovery of the Dead Sea Scrolls." Thereafter, in conjunction with the Astor Judaica Library at the Lawrence Family JCC, these talks are scheduled: Feb. 5: "Life and Thought at Qumran According to the Scrolls;" March 12: "Judaic Religions, the Second Temple, and the Scrolls;" March 26: "The SD Natural History Museum Dead Sea Scrolls Exhibition: Curator's Overview: Part 1;" April 23: "The SD Natural History Museum Dead Sea Scrolls Exhibition: Curator's Overview: Part 2." Noah Hadas, AJE's director of adult education, is the man to ask for more information. His email is noah@ajesd.org.
P Judy Persky was fascinated by an article on research done at the Technion in Israel that as wine may help ward off heart attacks, so too might pomegranate juice ward off diabetes. Here's the link. My biggest question: how does it taste?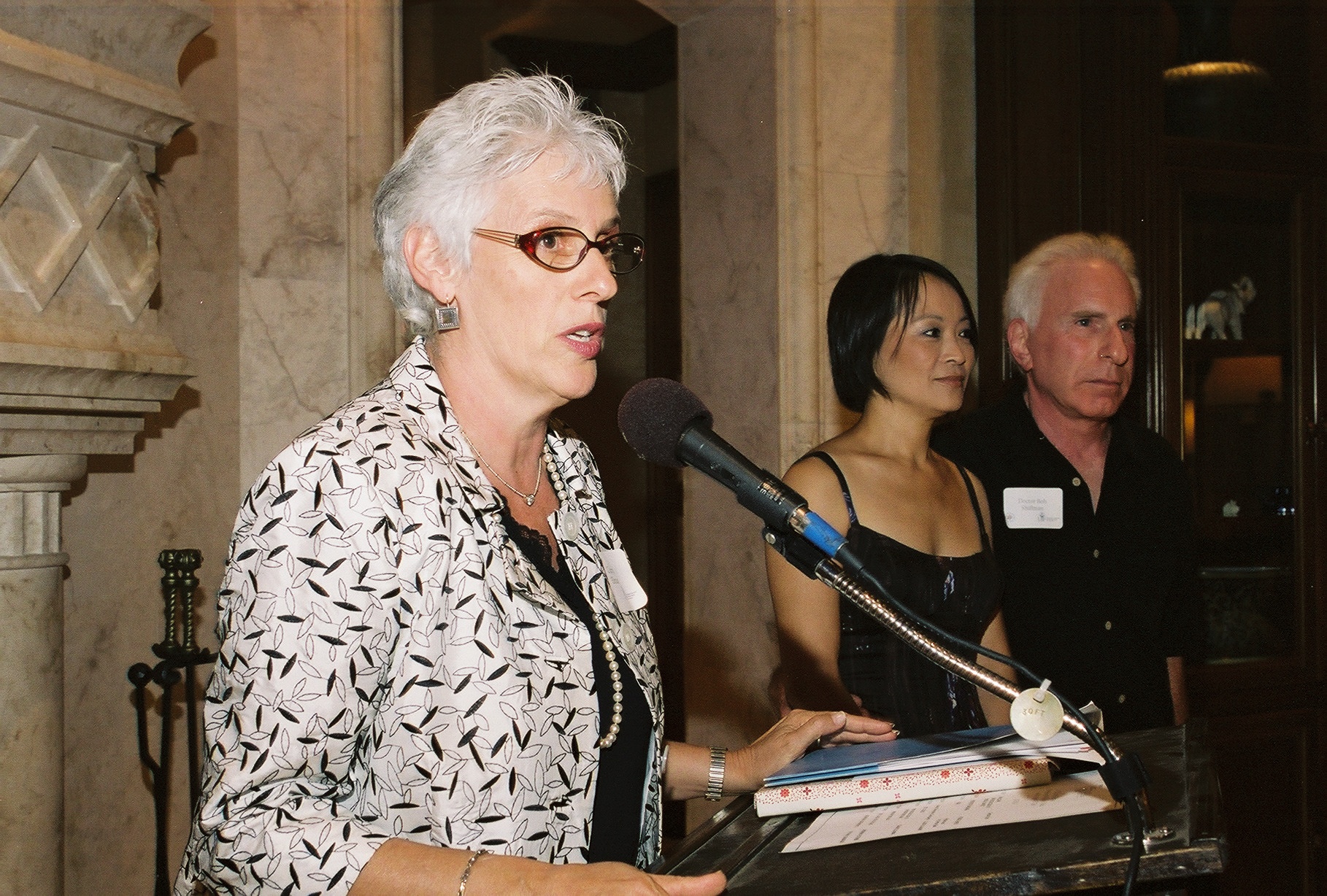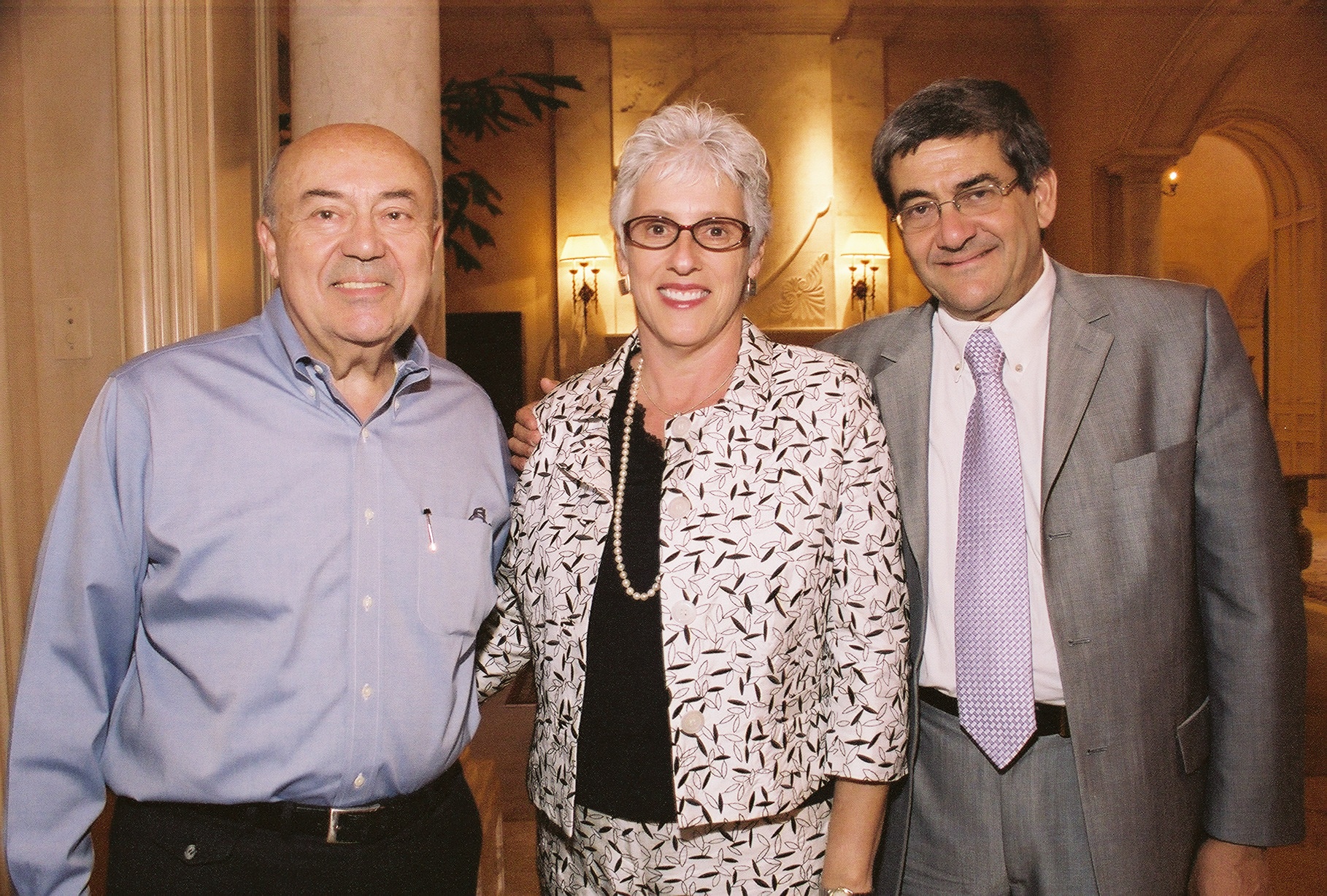 Israel Emergency Campaign Co-Chair Claire Ellman with Mao and Robert Shillman, and with co-chair Andrew Viterbi and Yossi Olmert at a recent reception at the Shillman home in Rancho Santa Fe
S Robert and Mao Shillman recently had an intimate gathering in their Rancho Santa Fe home for a fellow who once was best known as an expert on Israeli politics, the Arab-Israeli conflict and on Radical Islam. But nowadays the distinguished guest, Yossi Olmert, is known by another description: The prime minister's brother. The quiet August 29 get-together was sponsored by the Israel Emergency Fund of the United Jewish Federation whose leaders are taken with the Shillmans not only for their hospitality At the onset of the Israel Emergency Campaign during the war known as Lebanon II, Robert surprised a fundraising meeting by right there and then writing a check for $1 million.

Michael Stern, the director of marketing for Jewish Family Service, is hoping that in your photo album, or framed on your wall, or perhaps in a trunk somewhere, you have some historic photos of Jewish San Diego. Over the long hallways of the new JFS building, expected to open later this year, the organization hopes to create a permanent exhibit depicting San Diego's Jewish history. The Jewish Historical Society of San Diego is helping JFS with this project. If you have any photos you can share, please e-mail Stern at michaels@jfssd.org.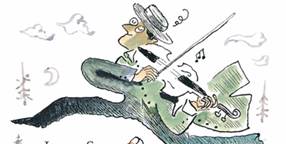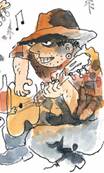 Yale Strom, a San Diego klezmer musician who has written authoritative books about the Eastern European culture in which klezmer flourished, now is teaching a course on the history of this Jewish jazz form on Monday afternoons at San Diego State University. According to the course description, "Klezmer is no longer heard only in catering halls and synagogues; it can be heard in serious music clubs and concert halls and as the soundtrack to modern dance, Broadway theatre and Hollywood films. World class musicians and composers of the past and present like Sidney Bechet, George Gershwin, Cab Calloway, Paul Robeson, Mussorgsky, Tchaikovsky, John Zorn, Carlos Santana, and many others have incorporated klezmer motifs into their work."