{Names with links are honorees of the Louis Rose Society for the Preservation of Jewish History. If you would like to honor a member of the San Diego County Jewish Community who is not living in your own household, you can write a tax-deductible check for $36 to the Jewish Community Foundation/ Louis Rose Fund, and send it to the foundation at 4950 Murphy Canyon Road, San Diego, CA 92123. Be sure to designate on the memo line of the check whom you would like to honor. Additional honorees may be designated for contributions of $18 (chai) to the Louis Rose Fund)

By Donald H. Harrison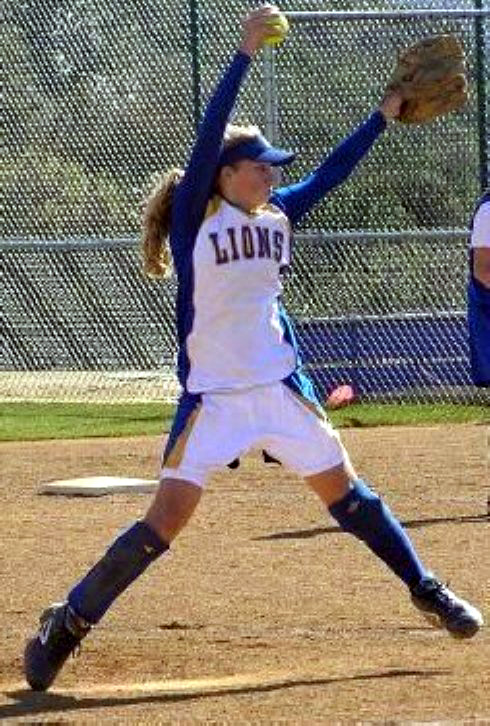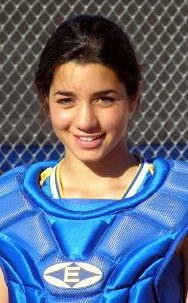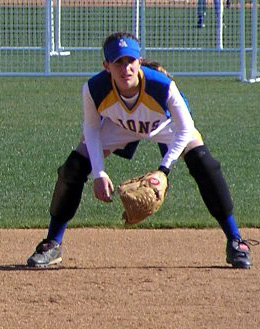 ALL-CONFERENCE—SDJA's Ali Adelman, left; Amy Pamensky, and Carli Wittgrove made Citrus League 1st Team

A Ali Adelman, a sophomore pitcher for the San Diego Jewish Academy Lions, along with softball teammates Amy Pamensky, a catcher, and Carli Wittgrove, an infielder, have been named to the Citrus League All-Conference first team. They had compiled some amazing statistics while leading the Lions to a 15-3 league championship. Adelman over 105 innings struck out 245 batters and was credited with all 15 wins. As an offensive player, she compiled a batting average of over .600. Pamensky and Wittgrove also proved themselves remarkably good batters.

D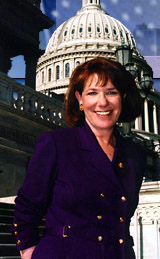 U.S. Rep. Susan Davis (D-San Diego) made a floor speech opposing a House-passed bill offered by Republican Reps. Duncan Hunter, Brian Bilbray, and Darrell Issa, all of San Diego County, to have the U.S. Defense Department purchase Mount Soledad Park in an effort to save the large Christian cross that is the center of a veterans memorial there. "If this bill were nothing more than a veteran's issue, we would have a very simple decision before us today. But, unfortunately, that is not the case. The courts have told us time and time again what this issue is about: It is about a demonstrated preference of one religion over all others. It is about a uniquely religious symbol on public land." Rep. Bob Filner (D-San Diego) joined Davis in opposing the bill when the House voted 349-74 in favor of nationalizing the cross. However, there may not be unity among Jews in Congress on this issue. A story in the San Diego Union-Tribune by Dana Wilkie reports California's two U.S. Senators, Barbara Boxer and Dianne Feinstein, both are expected to vote in favor of the measure when it comes to the Senate. In another House victory for Conservatives, Hunter, Issa and Bilbray were on the prevailing side and Davis and Filner in the minority when the House voted 260-167 to bar federal judges from declaring the words "under God" in the pledge of allegiance unconstitutional.

Earlier in the week, Wilkie also had reported in the San Diego Union-Tribune that Davis has come to the aid of an Air Force reserve master sergeant from San Diego, Brenda Portwood, who believes Col. Lonnie Smith at U.S. Central Command in Tampa, Florida, tried to force her to end her nearly 30-year-long career in an effort to replace her with an assistant of his own choosing. Davis forwarded an inquiry about the complaint to the Pentagon, which subsequently reassigned Smith. According to Wilkie's story, Davis has not been kept abreast of the investigation, so does not know whether Portwood's complaint or some other problem prompted the reassignment. However, the fact that Davis serves on the House Armed Services Committee may have gotten the Pentagon's attention.

G Marilyn Goldberg, 91, was the subject of a featured obituary by Jack Williams in a recent edition of the San Diego Union-Tribune. She was cited as a former board member of the San Diego Symphony, for her support of Kids Included Together (KIT), Malashock Dance, the San Diego Youth Company, the San Diego Youth Symphony, the Old Globe, La Jolla Playhouse, the San Diego Museum of Art, the San Diego Musuem of Contemporary Art, the Museum of Photographic Arts, the Mingei Museum and "Jewish causes." Goldberg died July 6 in La Jolla.

J It was a classic case of "good news-bad news" for Paul Jacobs, Qualcomm chief executive officer, and Steve Altman, the company's president Good: Qualcomm on Wednesday reported three records of a third quarter: revenue, profits and shipments. Bad: Qualcomm's stock dropped $1.82 to $34.91 in after hours training, prompting speculation that was because of continuing lawsuits by cell phone companies that contend Qualcomm charges them too much for the CDMA technology, according to a story by San Diego Union-Tribune reporter Kathryn Balint.


P Nan Pace, program administrator for the Lawrence Family Jewish Community Center, knows how quickly people's calendars fill up. So she's asked us to remind everyone that the 17th Annual San Diego Jewish Film Festival will be held February 8 - 18, 2007. The SDJFF presents over 30 short-subject, documentary and feature films, guest filmmakers and special events for all ages. "This year's festival promises to meet the demands of our growing audience to better the movie-going experience, while continuing to deliver the most contemporary Jewish films from around the world. This 11-day Festival is an accomplished showcase with an international roster of visiting actors, filmmakers and scholars to introduce their work and answer audience questions during panel discussions, as well as meet and greet with the patrons. Venues: AMC La Jolla 12, UltraStar Mission Valley Cinemas at Hazard Center and Poway Creekside Plaza 10, the David & Dorothea Garfield Theatre at the Lawrence Family JCC in La Jolla, and on the campus of San Diego State University. More details may be obtained by calling (858) 362-1330.



R Larry Remer, a Democratic political consultant, and former Southwestern College President Serafin Zasueta, both were sentenced on Thursday, July 21, in federal court to three years probation, a $5,000 fine and ordered to pay $2,945.24 in restitution to Southwestern College following their guilty pleas to misdemeanor charges that they violated campaign ordinances by using college funds, as opposed to campaign funds, to repay the costs of campaign commercials in support of a 2000 school bond measure. Both men were ordered by U.S. District Court Judge John A. Houston to perform a100 hours of community service under the direction of a federal probation officer. Evidently a statement of contrition was not required, as Remer was quoted by reporter Onell R. Soto of the San Diego Union-Tribune as saying that prosecutors "concocted this whole crazy idea that there was wire fraud and mail fraud."

Helen Rosenbaum recently dominated the youth division of the 14th annual photo contest sponsored by the Mission Trails Regional Park. She grabbed a first place, second place and an honorable mention in the contest. Her photo entitled "sting" showing a bee on a flower, s reprinted in the current issue of the Mission Trails Regional Park News.

S Ben Snyder was memorialized by the Ben Snyder Family Trust and Maxine Snyder as the 384th honoree of the Louis Rose Society for the Preservation of Jewish History.

Jeffrey Strauss, chef of the Pamplemousse Grille of Del Mar, brought his culinary creations to Balboa Park for a "Casablanca" Night benefitting several arts organizations including the San Diego Hall of Champions, created by Robert Breitbard; the Old Globe Theatre and the Timken Museum of Art.

Robert Strauss, former U.S. ambassador to Russia and one-time National Democratic Party chairman, was among the attendees at opening day at the Del Mar race track. No surprise, given that he is now chairman of the Del Mar Thoroughclub Board.

W Eileen Wingard and David Amos introduced Taiwanese pianist Rueibin Chen at his July 16 and July 1 concerts respectively at the Sherwood Auditorium in La Jolla. Chen, who has won numerous international competitions including the Rubenstein gold medal in Tel Aviv, received much of his musical training in Vienna, where he now resides. Because background materials referred to him as a Chinese-Austrian, some thought mistakenly that he was of mixed Asian and European parentage. But, in fact, the hyphenated names had been used in a manner similar to the context in which we say someone is a Chinese-American or Mexican-American. Both of Chen's parents are Taiwanese. At the July 16 concert, Wingard, a former violinist with the San Diego Symphony Orchestra, provided a warm welcome to Chen, whose dramatic keyboard presentations were pleasing to the audience. At times Chen put his face so close to the keyboard, it was as if it were a baby he wanted to caress; at other times he banged the keys so hard, one wondered if he were angry at the Steinway & Sons Piano. There were times that he played so quickly and accurately that one wondered how anyone could have such perfect finger control. At all times, his virtuoso performances were arresting and entertaining.

Care to share an item about yourself or other members of the San Diego County Jewish community? Please email Donald H. Harrison at sdheritage@cox.net or phone him at 619-265-0808.