This Resolution echoes the recommendations of the Baker-Hamilton Commission and other distinguished experts who have called on the United States to engage in high-level diplomatic efforts in support of a just and lasting peace."

"This year marks the 40th anniversary of the Six Day War," said Dodd, "and it also marks the sixth year that President Bush has abdicated America's responsibility to act as a broker for peace in this troubled region.
"The effects of the Israeli-Palestinian conflict are not limited to the parties in conflict, or even the region – the effects are felt throughout the global community, and as a leader in this community, we must dedicate ourselves to finding a lasting solution to this conflict. I am hopeful that this Resolution motivates President Bush to undertake robust diplomacy with leaders in the region to achieve peace between Israelis and Palestinians."
Hagel said: "This resolution underscores the reality that the Israeli-Palestinian conflict frames and influences everything in the Middle East region.
"I recently returned from a nine-day trip to Jordan, Israel, the Palestinian territories and Lebanon. Nearly every leader and government official that I met stressed the urgency for new U.S. leadership efforts to revive the Israeli-Palestinian peace process.
"There will be no stability or security in the Middle East until all parties reach a higher ground of resolution based on common interests." (Jump to continuation)
Hebrew University Ph.D. wins Kaye Award for 'natural protection' to reduce spread of Alzheimer's Disease

JERUSALEM (Press Release)—Although numerous drugs have been developed over the years to alleviate the symptoms of Alzheimer's disease, there is still no real cure to halt this progressive, neurodegenerative disorder that causes premature death of nerve cells in the deep brain nuclei, leading to dementia and death.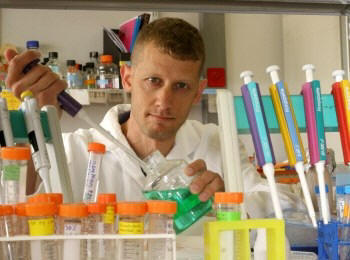 A graduate student in biological chemistry at the Hebrew University of Jerusalem has, however, developed an approach that holds out promise of providing natural brain protection against the spread of this disease. For his work, Erez Podoly, a joint student of Dean of Science Prof. Hermona Soreq and the head of the Wolfson Center for Applied Structural Biology, Prof. Oded Livnah, was one of the winners of this year's Kaye Innovation Awards, presented on June 6 during the 70th meeting of the Hebrew University Board of Governors.

Alzheimer's Disease afflicts 12 million people worldwide, and this figure is expected to almost double over the next 25 years, due to prolonged life expectancy. Alzheimer disease patients develop neurotoxic precipitates ("plaques"), composed of the amyloid beta (Aβ) peptide, which spread as fibrils in the brain and destroy nerve cells. (A peptide is short chain of amino acids).

The several drugs that have been developed for Alzheimer's disease serve to enhance neuronal function, suppress inflammation, block or reduce the generation of oxidative stress in the brain, or minimize cognitive damage. Unfortunately, however, it is still unknown as to how to halt the spread of the neurotoxic plaques.

Podoly, 34, a native New Yorker, and his colleagues set out to design a blocker for the neurotoxic effects of the Aβ peptide, using the Butyrylcholinesterase (BChE) protein, which was cloned and engineered in their lab. BChE's brain concentration increases with age, a fact overlooked so far, but which for Podoly and his colleagues seemed highly relevant to the progress of Alzheimer's. The researchers set out in their laboratory to see if they could chemically improve and intensify BChE's effect on the brain fibrils.

The researchers were indeed able to show in the lab that BChE purified from human blood and short synthetic peptides of BChE were able to reduce fibril formation. However, supply limitations and health risks limit the value of blood serum-derived human BChE.

Fortunately, a breakthrough was achieved when PharmAthene Inc., an American company, was able to produce engineered human BChE that was introduced into the milk of transgenic goats. Recently, in collaboration between the Hebrew University, Yissum – the technology transfer company of the university -- and PharmAthene, Podoly and his colleagues have succeeded in demonstrating by several independent methods that the goat-derived BChE efficiently interacts with and reduces amyloid fibrils formation. They anticipate that recombinant human BChE produced in the milk of transgenic goats and/or synthetic peptides derived from BChE can become novel prophylactic or therapeutic agents for slowing the progression of senile plaque formations in the brain of Alzheimer's patients. Further research, leading to clinical tests on humans, is planned for the future.

The Kaye Innovation Awards at the Hebrew University have been awarded annually since 1994. Isaac Kaye of England, a prominent industrialist in the pharmaceutical industry, established the awards to encourage faculty, staff, and students of the University to develop innovative methods and inventions with good commercial potential which have benefited or will benefit the University and society.
The foregoing article was provided by the Hebrew University, Jerusalem

(Return to top)

Olympics movement honors Israeli race walker

BEER-SHEVA, Israel (Press Release)—Prof. Shaul Ladany of the Department of Industrial Engineering and Management at Ben-Guruion University of the Negev has been awarded the Pierre de Coubertin Medal for outstanding services to the Olympic Movement. The Council of the Olympic Order reached the decision at a recent meeting of the International Olympic Committee in Lausanne, and in congratulating Prof Ladany, he was cited as "an unusual person with unusual outstanding sports achievements during a span covering over four decades."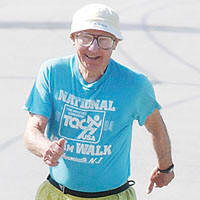 One of the greatest race-walkers in history, Ladany still holds the world record in the 50-mile walk (7:23:50), and the Israeli national record in the 50-km walk (4:17:07 —set in 1972). He began his athletic career as a marathon runner, but turned to walking in the early 1960s. In 1972, Shaul won the gold medal in the 100-km (9:31:00) at the World Championships. He also won the Israeli national walking championships 28 times from 1963-1988; won the U.S. walking championship six times (from 1973-1981); the championship in Belgium twice (1971 and 1972); in Switzerland in 1972, and in South Africa in 1975. In 1976, Shaul became the first person ever to win both the American Open and Masters (40 years and over) 75-kilometer walking championship. He repeated the feat in 1977 and 1981 (by which time the event had become a 100-km race). Ladany also won the 20-km, and 50-km walk at the 1973 Maccabiah Games. and at age 70 in 2006, set in Ohio, USA, the 100 mile World Record (21:45:34 hours) for the 70-74 age group.
Born in Belgrade Yugoslavia, Ladany at the age of eight was sent to the Bergen-Belsen concentration camp during the Holocaust. In 1997, Ladany's memoirs, The Walk to the Olympics were published in Hebrew. One of the best race walkers in the world in the 1960s and 1970s, Ladany competed in two Olympiads for Israel. At the 1968 Mexico City Games, Ladany finished in 24th place in the 50-km walk with a time of 5 hours, 1 minute, and 6 seconds. He then returned to the Olympics at the 1972 Munich Games as Israel's sole male representative in track and field. He again competed in the 50-km walk and improved to finish in 19th place with a time of 4 hours, 24 minutes and 38 seconds. The morning after his race, Palestinian terrorists broke into the Olympic Village with the intention of taking the entire Israeli delegation hostage. Eleven Israelis were killed by the terrorists, but Ladany and four others escaped.
Despite Ladany's high-level full devotion to sports, he "moonlighted" as a scientist and University Professor, pursuing a very successful academic career. As such, as a side-line of his research activity, he became a world leader in the development of the field of Operations Research in Sports, becoming the pioneer researcher and publisher of scientific articles in the field, the editor of books and of special-issues of scientific journals devoted to the subject, and the author of the "Management Science Applications to Sports" entry in 2 issues of the Encyclopedia of Operations Research and Management Science.
Shaul was described by the Council of the Olympic Order as "an extraordinary example of an athlete in an area not highlighted by the media, who nevertheless devoted a life-time to vigorous time-consuming and exhausting sport with top achievements at the highest possible levels during a period of over 40 years. He is an example of an amateur athlete (in a field in which money is not involved) that should be an example to others. He is a role model others should aim to imitate, to excel in sports to the highest possible level and to stay there for a life-time, and simultaneously to combine it with excellence in science or in other gainful activity – it is evident that the I.O.C. must bestow him with the award."
The foregoing article was provided by Ben Gurion University of the Negev.

(Return to top)




Your specialist in
cruises and tours

Upcoming 2007 San Diego sailings:



Now

-December 29: Carnival: Elation: multiple 4-and 5-day sailings, round trip to Mexico.

Sept 23-Dec 30: Princess Cruises: Dawn Princess: 7-day round trip to Mexico

Sept. 28: Celebrity Cruises: Summit: 14-day Hawaii

Sept. 29: Holland America: Oosterdam, 7-day Mexico.
Brandeis taps Nader Habibi for Middle East Studies

WALTHAM, Mass. (Press Release)— Nader Habibi, a respected Middle East economist who has taught at universities in Iran, Turkey and the United States and served as a regional economist at a major international forecasting company, was appointed the first Henry J. Leir Chair in the Economics of the Middle East at Brandeis University.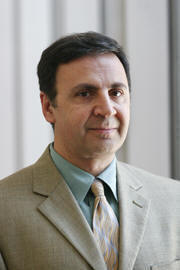 Effective July 1, Habibi will join the Department of Economics faculty and become part of Brandeis' Crown Center for Middle East Studies. He will teach students, conduct research, and represent the Crown Center at conferences.
"We are pleased to welcome Professor Habibi to Brandeis and the Crown Center for Middle East Studies," said Shai Feldman, the Judith and Sidney Swartz Director of the Crown Center. "He has broad knowledge and understanding of the economics of the countries in the Middle East. His blend of private sector expertise and teaching experience will be a great asset to the Crown Center."
Nader Habiby

The Leir Chair was established last year by the Leir Charitable Foundations, which were created in 1963 by industrialist Henry J. Leir and his wife, Erna. In addition to his philanthropic endeavors, Leir devoted himself to strengthening the global economy and wrote a 1937 novel that advanced the idea that economic factors greatly influence the security of individuals and countries.
Habibi, a native of Iran, most recently served as managing director at Global Insight, where he headed the international forecasting firm's Middle East and North Africa Division in the Country Intelligence Group. His responsibilities included political and economic analyses and assessment of investment risk of oil-exporting countries in the Persian Gulf region. He also supervised the macroeconomic forecasting activities for the division.
Habibi spent two years at Yale University, where he was a visiting scholar in the Department of Economics, a research fellow at the Council for Middle East Studies, and the Rice Family Fellow
at the Center for International and Area Studies.
Habibi has vast international teaching experience. He was an assistant professor of economics at Bilkent University in Turkey; served as chair of the Department of Economics at the Institute for Research in Planning and Development in Tehran; was vice president for research at the Iran Banking Institute; and was a member of the economics faculty at Bu Ali Sina University in Hamadan, Iran.
Habibi earned his bachelor's degree in computer science and economics from Ball State University in 1982. He received his master's (system science and operations research, 1984) and doctorate (economics, 1987) from Michigan State University.

The preceding article was provided by Brandeis University

(Return to top)

Buena Vista Hadassah

cordially invites you to hear


Rabbi Chaplain Joel D. Newman

based on his experiences in the war zone

"Passover in Iraq"
12:30 p.m., Tuesday, June 19
Vista Library, 700 Eucalyptus Avenue, Vista
Free refreshments
For further information: call Vivian (760) 967-0149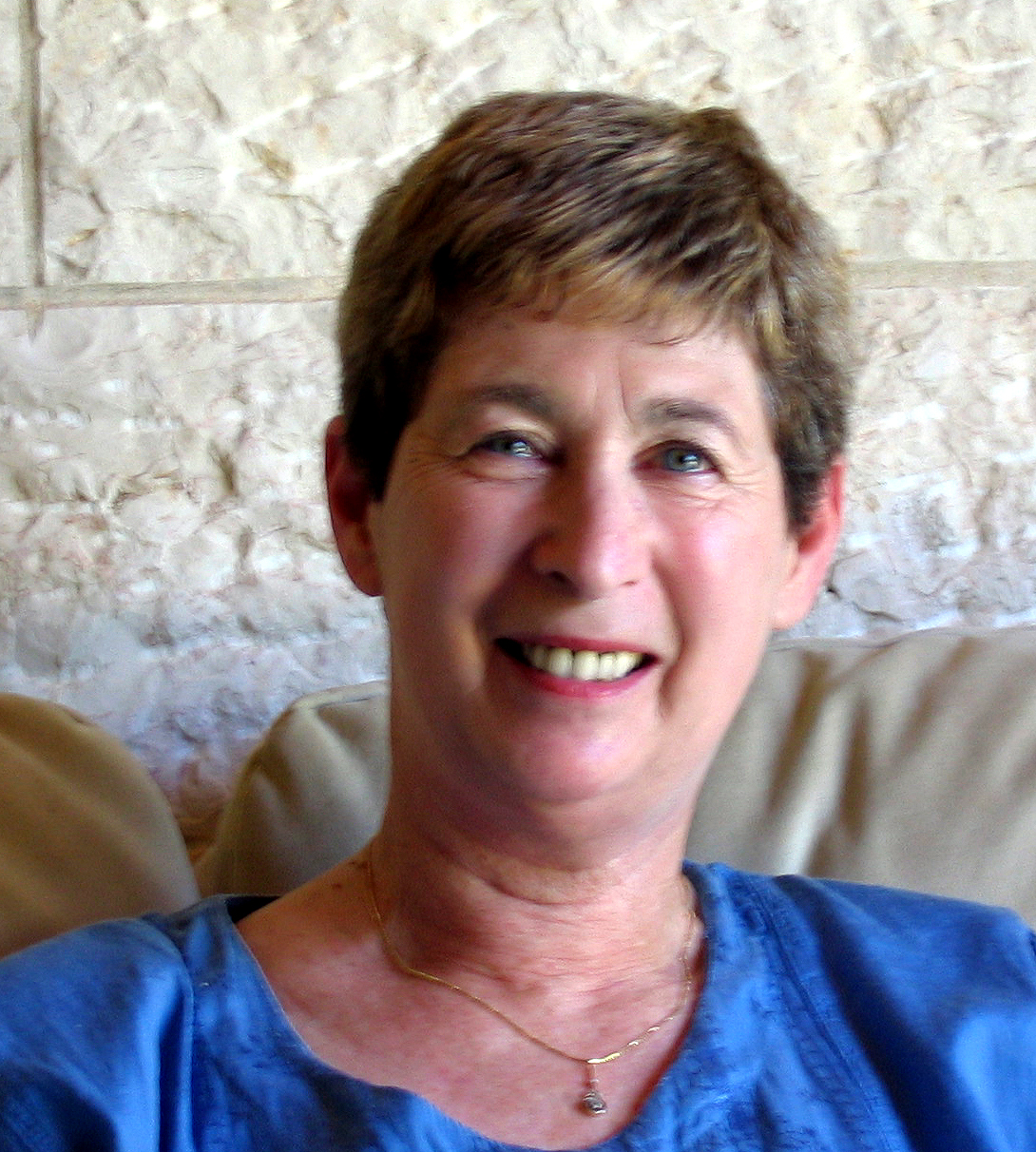 A Herald in Zion....
Notes from Mevasseret Zion
Dorothea Shefer-Vanson
I love Israel in the Springtime...

MEVASSERET ZION, Israel—Spring is beautiful anywhere in the world, but in Israel it has a special poignancy. You know that the lush foliage and colourful flowers are going to be short-lived, whether because of the heat of the impending summer or of the Hamsin heat-wave that afflicts Israel in its desperately short spring and autumn.
But while it lasts, spring in the Judaean Hills is particularly lovely. There are folk who traipse to the north of the country—Galilee or even the Golan Heights—to admire the wild flowers, but there is no need to look further than one's own back yard, metaphorically speaking, to find the glories of spring in Israel.
My daily drive to work gives me the option of taking the highway or meandering through the Jerusalem Forest. I generally prefer the latter, whatever the season, even though it makes my journey longer.
I keep my eyes on the road, of course, but I can still see clumps of wild cyclamen in fashionable shades of pink and mauve peeping from behind rocks. The wild almond trees, though, are the first to blossom, and it is heartening to see their white branches gleaming amidst the bare winter trees. Later on purple spikes of wild lupin can be seen amid the grey-green wild grass, offset by yellow mimosa bushes.
Other trees produce green shoots, but the Judas Tree stands apart, ablaze with red-mauve blossoms. Its Hebrew name, 'Glory of the Forest,' is far more apt than the English one that evokes the crucifixion (Judas is supposed to have hanged himself from its branches).
Broom and gorse also abound beside the road in sunbursts of yellow, alongside scarlet poppies and other flowers whose names I do not know, but who saturate my morning commute with glorious colour.
The foregoing article was reprinted from the AJR Journal (Association of Jewish Refugees) in England.

(Return to top)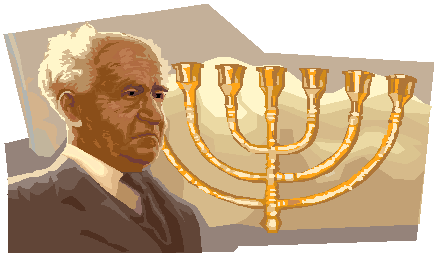 Jews in the News
---------------------------------------------------------------------------------------------------------------
Like you, we're pleased when members of our community are praiseworthy, and are disappointed when they are blameworthy. Whether it's good news or bad news, we'll try to keep track of what's being said in general media about our fellow Jews. Our news spotters are Dan Brin in Los Angeles, Donald H. Harrison in San Diego, and you. Wherever you are, if you see a story of interest, please send a summary and link to us at sdheritage@cox.net. To
see a source story click on the link within the respective paragraph.
____________________________________________________________________________________________
*San Diego Port Commissioner Laurie Black says she will emphasize waterfront development during her term, and also will keep in close touch with the San Diego City Council, which appointed her. An interview with Evan McLaughlin is on today's Voice of San Diego. In the San Diego Union-Tribune meanwhile there is a story by Maureen Magee on Black's appointment to the commission.

*Etti Efrah, a teacher in Sderot, say the code for incoming rockets from Gaza —"Color Red"— now can be heard on the playgrounds of kindergartners and preschoolers. Someone yells the phrase and the children all go hide—another effect of what columnist Trudy Rubin of the Philadelphia Inquirer describes as the "Rocket Era." Her column is in today's San Diego Union-Tribune.

*U.S. Sen. Dianne Feinstein (Democrat, California) says the shelved Immigration Bill generated the most racist hate mail and threats of her career. The story by Janet Hook and Nicole Gaouette is in today's San Diego Union-Tribune.

*Norman Finkelstein, who has been called a "Holocaust minimizer" by some fellow Jews, has been denied tenure at DePaul University. The story by Maudlyne Ihejirika and Dave Newbart is in today's Chicago Sun-Times.

*Irwin Jacobs, founder of Qualcomm, was an important force behind the University of California San Diego meeting its goal of raising $1 billion. There were 100,000 individuals and companies that contributed to the campaign, according to a story by Eleanor Yang Su in today's San Diego Union-Tribune.

*San Diego County Sheriff Bill Kolender criticized City Attorney Mike Aguirre for using the term "corruption" in his criticism of San Diego Mayor Jerry Sanders, whom Kolender described in a letter-to-the-editor in today's San Diego Union-Tribune as "an honest and caring man who has a value system."

*Sherry Lansing, former head of Paramount Studios, is engaged in an effort to lure retirees from various fields into teaching mathematics and science. The effort is backed by California Gov. Arnold Schwarzenegger. The story by Howard Blume is in today's Los Angeles Times.

*U.S. Sen. Carl Levin (Democrat, Michigan) advised Defense Secretary Robert Gates that a confirmation hearing for Marine Gen. Peter Pace to continue in office as chairman of the Joint Chiefs of Staff would likely focus on the last four years and be cause for acrimonious debate. Gates subsequently decided to replace Pace with Admiral Mike Mullen. The combined Associated Press and Washington Post story is in today's San Diego Union-Tribune.

*UCSD Prof. Thomas Levy, an archaeologist who has trekked all over the deserts of Jordan, has some of his findings from the Copper Age on display at the Museum of Man in Balboa Park, in an exhibit designed to be a companion to the Dead Sea Scrolls exhibition that will open at the San Diego Natural History Museum later this month. The story by Jeanette Steele is in today's San Diego Union-Tribune.

*Whether President George W. Bush should pardon I. Lewis "Scooter" Libby, the former chief of staff to Vice President Dick Cheney, seems to be a debate between those like Weekly Standard editor William Kristol who admired the way Libby stood up for Bush's Iraq policy and election-minded Republicans who fear a pardon will suggest their party applies a double standard to law breakers. E.J. Dionne Jr. of The Washington Post has the story in today's San Diego Union-Tribune.

*Television critic Karla Peterson suggests characters in such David Milch dramas as "NYPD Blue," "The Sopranos," and now "John from Cincinnati"—filmed in Imperial Beach— are created on "Planet Milch," a bizarre but creative place somewhere in the universe. Her column is in today's San Diego Union-Tribune.

*Leonard Nathan, who once described himself as a poet in search of a saving grace, has died at 82. His obituary is in today's Los Angeles Times.

*U.S. Sen. Charles Schumer (Democrat, New York) says a floor vote is expected this upcoming week on a nonbinding resolution calling for the dismissal of Attorney General Alberto Gonzales. The New York Times news service story is in today's San Diego Union-Tribune.

*In response to the growing number of requests for information from congressional investigating committees, the White House has increased the number of attorneys in the White House Counsel's office from 17 to 22. The chairman of one of the committees probing the administration, U.S. Rep. Henry Waxman (Democrat, California) had no immediate comment. The story by Maura Reynolds is in today's Los Angeles Times.

*Dimension Co-Chairman Bob Weinstein speculates that the market for horror pictures has been saturated, meaning fans apparently are growing bored with gore. The story by Rachel Abramowitz and Sheigh Crabtree is in today's Los Angeles Times.

*The King/ Harbor medical facility, where a woman infamously died after writhing unattended at the hospital's admissions area, has received another blow: a critical report by the U.S. Centers for Medicare and Medicaid Services. Los Angeles County Supervisor Zev Yaraslovsky says rather than trying to attract the best, the hospital's efforts at reform simply were to fire or transfer some of the worst personnel. The story by Rich Connell and Susannah Rosenblatt is in today's Los Angeles Times.

(Return to top)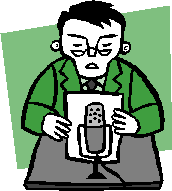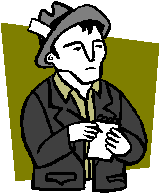 News Sleuths:

Watching the media gathering and reporting the news of Jewish interest
Date: June 8, 2007
Place: Associated Press offices, New York City
The spokesman: Secretary of State Condoleezza Rice
Source: State Department transcript of interview with Associated Press editorial board
Subject: Scariness of the world

QUESTION: Speaking of administrations, for the Bush Administration during these years, things have gone from when -- and you've been President Bush's political advisor since he was the candidate Bush. You've got a Middle East that's -- no peace still as -- you know, you've got the "axis of evil" countries. Iraq is pretty nasty right now. Iran and North Korea are still problems. Even Pakistan is getting a little bit dicey these days.

So the question is -- I mean, it seems from polls that Americans believe that today's world for Americans is more dangerous, it's scary, and it's a lot worse off in many ways than six years ago or seven years ago.
SECRETARY RICE: Now, six years ago, al-Qaida was planning to attack the Twin Towers. It wasn't a very nice world. And I think that if you think about six years ago, al-Qaida was preparing to attack the Twin Towers, Pakistan was allied with the Taliban, Afghanistan was the base from which al-Qaida was going to operate; the Israelis and the Palestinians had given up on a chance for -- or let me put it, the Palestinians had walked away from a chance for a Palestinian state, launched the second intifada, elected Ariel Sharon who basically said there would never be a Palestinian state and there will be a greater Israel; the North Korean were cheating on a deal that they had just signed; China and others were indifferent to that because it was a U.S.-North Korea bilateral deal; Iran was cheating on the IAEA out of sight. I could go on and on and on. That was the world in 2000 and 2001.
And there is no doubt that by confronting -- oh, by the way, and Saddam Hussein was shooting at our pilots regularly in the no-fly zone and making a mockery of the Oil-for-Peace -- Oil-for-Food program and corruption was running rampant in that program.
So, a worse world? I think so. And I think that what this President has done is in some ways comparable to beginning to set up the long struggle that we are going to have to resolve particularly the problem of the growth of extremism in the Middle East, which was clearly there underneath the surface and exploded on September 11th so that we finally knew what the real problem was. The real problem wasn't just that there were extremists. It's that they were pretty widespread, they were very well networked, they were operating in lots of countries including our own. We couldn't even figure out that they were talking to one another from San Diego to someplace in the Middle East about Afghanistan. I don't think we were in better shape.
And so by confronting this problem, they now have come to the surface to fight. And whether it is in the war on terror and now a much more extensive -- a pretty -- a very extensive, in fact, network of intelligence and information-sharing and law enforcement capability worldwide that can pass information as rapidly as we did to break up these various plots; to a coalition now of states that have twice voted for Chapter 7 resolutions against Iran, whose activities were to date hidden; to a coalition of states that reacted to the North Korean nuclear test in a way that actually now produced an agreement on getting the North Korean nuclear program first stopped and then, it is my hope, beginning to reverse it; to a Middle East in which Likud, the party of Ariel Sharon, split to produce a party that now accepts a two-state solution and accepts that there will be no greater Israel. You know, I think there's a lot of progress.
Now, will we see the end of all of this? Maybe not. But when you're confronted with a fundamentally changed strategic set of circumstances, you can try to put band-aids on it or you can say we're going to have to deal with the root problems here and it may take a long time and it may take successive administrations to succeed. But we know what we have to put in place so that successive administrations can succeed, and you don't get there by covering the problems or trying to find a temporary solution to them that isn't worth the paper that it's written on.
You know, you've all heard me say that I was lucky enough to be here the last time for the end of a big historic transformation. But that was an historic transformation that was begun by people like Marshall and Vandenberg and Acheson, when things looked pretty awful. You know, when the question wasn't: Is there going to be a communist Eastern Europe? It was was there going to be a communist Western Europe in 1946 and 1947, the kind of origin of the Marshall Plan and the Truman Doctrine. And when the question was would there be an Israeli state and when the question -- a Jewish state, and when the question was, okay, so you had to permanently divide Germany, could you make one part of Germany more successful than the other. And when the Soviet Union was, you know, exploding a nuclear weapon five years ahead of schedule and the Chinese communists won their revolution and the Korean War broke out -- speaking of the Korean analogy.
And over an extended period of time, you can go back and look at any one of those issues that in those days must have looked insoluble and that we were on the wrong side, every single one of them has worked out to our advantage. And I think that you will see that we've now -- we're here at the beginning of a big historic transformation, and some of them may still work out on our watch and some of them may not. But now if you -- if you -- with all due respect, if you try to judge what you should do by today's headlines, you miss the fact that history's judgment is rarely the same as today's headlines.


(Return to top)
_______________________________________________
The Jewish Grapevine

-------------------------------------------------------------------------------------------------------------------------------------

JEWISH STORY EVERYWHERE—Bruce Kesler spotted the article in the Riverside Press-Enterprise about Navy Lt. Laurie Zimmet, who says one of her fondest memories of her service in Iraq was attending a Chanukah service... Sam Zeiden of Oceanside, on a visit to Modesto to attend the high school graduation of his grandson Edward Zeiden, was pleased to find an item in the "Beliefs and Issues" column of today's Modesto Bee about a Florida company that is selling kippot for Jewish athletes competing in track events...

(Return to top)





Arts, Entertainment & Dining

At the museums



Jewish Museum in Prague spotlights Otto Guttfreund



PRAGUE, CZECH REPUBLIC (Press Release) —The 2nd of June of this year marked the 80th anniversary of the tragic death of the most important Czech modernist sculptor Otto Gutfreund.

Gutfreund was born into a Jewish family in Dvůr Králové on 3 August 1889, the fourth son of Karel and Emilie Gutfreund. After attending pottery school in Bechyně (1903–06), he moved on to the figurative and ornamental modeling department at the Prague Academy of Applied Arts (1906–09) and then to the Paris Académie de la Grand Chaumière with Antoine Bourdell.

His first shows were held before the First World War as part of the exhibitions of the Fine Artists' Group. During the first two years of the war he was engaged in battle in Alsace as a member of the Foreign Legion. In 1916, however, he was required to spend the rest of the war in the Saint Michel de Frigolet and Blanzy internment camps.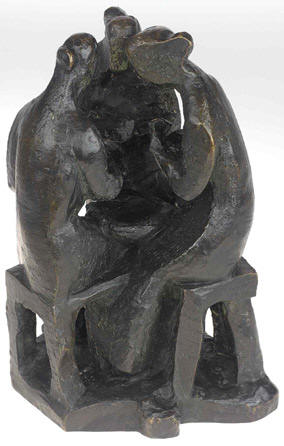 After his release in January 1919 he returned to the newly established Czechoslovakia. In Prague he became a member of the Mánes Fine Artists' Group. He lived alternately in his home town of Dvůr Králové and in Prague, where he was regularly involved in Mánes exhibitions. In 1921 he took part in the third exhibition of the group Tvrdošíjní and gained numerous public commissions. In 1926 he was appointed professor at the Prague Academy of Applied Arts. One sultry afternoon, on 2 June 1927, he drowned whole swimming in the River Vltava near Shooter's Island.

At the beginning of his career he was strongly influenced by Cubism, through which he gave a more distinct expression to his reliefs, free-standing sculptures and preparatory drawings, of which he made a great number during his life. After the end of the First World War and his return to what was then Czechoslovakia, he inclined towards the ideas of the New Objectivity movement and Social Civilism.

This small sculpture (above) of women stripping feathers is a good example of Gutfreund's work from this period. {
B
ronze, height 33 cm; Unmarked; Provenance: a cast from an original plaster model which belonged to the pre-war collection of Dr. Emil Freund (1886-1942); cast acquired by the State Jewish Museum in Prague in 1971
}

The preceding article was provided by the Jewish Museum in Prague


(Return to top)
Senate Resolution...
(Continued from above)
The Resolution:
1. reaffirms the Senate's commitment to a true and lasting solution to the Israeli-Palestinian conflict, based on the establishment of two states, the State of Israel and Palestine, living side by side in peace and security, and with recognized borders;
2. denounces the use of violence and terror and reaffirms its unwavering commitment to Israel's security;
3. calls on President Bush to pursue a robust diplomatic effort to engage the State of Israel and the Palestinian Authority, begin negotiations, and make a two-state settlement a top priority;
4. urges President Bush to consider appointing as Special Envoy for Middle East Peace an individual who has held cabinet rank or someone equally qualified, with an extensive knowledge of foreign affairs generally and the Middle East region in particular;
5. calls on the Hamas-led Palestinian Authority to recognize the State of Israel's right to exist, to renounce and end all terror and incitement, and to accept past agreements and obligations with the State of Israel;
6. calls on moderate Arab states in the region to intensify their diplomatic efforts toward a two-state solution and welcomes the Arab League Peace Initiative; and
7. calls on Israeli and Palestinian leaders to embrace efforts to achieve peace and refrain from taking any actions that would prejudice the outcome of final status negotiations.

(Return to top)